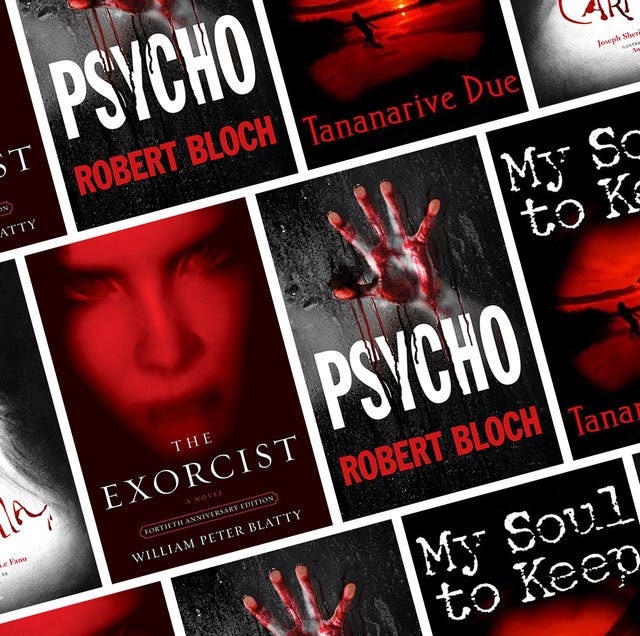 Courtesy
Though we're months away from Halloween, it's never too early to get a head start on spooky season. While you may be most familiar with scary movies, books are reliable scares, too. Ghosts, haunted mansions, and murderous vampires are just a few classic horror tropes and these books offer those in abundance. From The Shining to The Exorcist, here are the 25 best horror books of all time.
Advertisement – Continue Reading Below
The Shining by Stephen King
You can't talk about horror without mentioning Stephen King. Over the course of his nearly five-decade-long career, he's brought us killer clowns, murderous fan girls, and, of course, haunted hotels. When Jack Torrance takes a job as the off-season caretaker of the Overlook Hotel, he becomes possessed by the building's supernatural forces.
The Exorcist by William Peter Blatty
You're probably familiar with this story. When a demonic spirit possesses an 11-year-old girl, Catholic priests are called to her home to perform an exorcism. The book was so popular that the iconic film adaptation was released just two years after its publication.
The Monk by Matthew Lewis
What's more horrific than a creepy monk? After Ambrosio finds himself infatuated with a young girl, he abandons his religious values for a life riddled with immorality. Widely regarded as one of the first Gothic novels ever written, The Monk was condemned at the time of its publication in 1796 and the author even had to make revisions to avoid charges of blasphemy.
Rosemary's Baby by Ira Levin
As one of the first novels to initiate the "horror boom" of the 1960s, Rosemary's Baby tells the story of a woman who is pregnant with the spawn of Satan. For Rosemary, what ensues is debilitating pain, extreme weight loss, and an intense craving for raw meat. Read at your own risk.
Carmilla by by Joseph Sheridan Le Fanu
Who doesn't love vampires? Carmilla is about a female vampire who becomes obsessed with a young woman. The book has an undercurrent of romance and lust, though the relationship is never explicitly named. Supernatural figures and dark castles are key elements in this story, and it even inspired Bram Stoker's Dracula, which was published years later.
There are very few characters as iconic as Count Dracula. In this 1897 classic horror novel, Dracula leaves his home of Transylvania in order to find fresh blood over in England. When word gets around that there's a vampire in town, a small group hunts him down, with the intention to kill.
Frankenstein by Mary Shelley
One key element of every classic horror novel is the lasting omnipresence of its characters in popular culture, and Frankenstein has exactly that. When the scientist Victor Frankenstein conducts an experiment to create a sentient being, the creature he makes ends up being more grotesque and sinister than he could have imagined.
Frankenstein in Baghdad by Ahmed Saadawi
Just like the 1818 classic, this newer interpretation of Frankenstein is all about the pitfalls of creation. In Baghdad, a scavenger named Hadi collects various body parts and sews them together to create a corpse. But when the corpse becomes sentient and goes missing, several mysterious murders start to take over the city. And just like Victor Frankenstein, Hadi realizes that he has created a monster.
"124 was spiteful. Full of a baby's venom." So begins Toni Morrison's Pulitzer Prize-winning novel. Though we may not readily classify Morrison as a horror writer, she was well acquainted with ghosts. Beloved follows a formerly enslaved woman named Sethe (played by Oprah in the film adaptation) who is haunted by her deceased daughter.
The Haunting of Hill House by Shirley Jackson
If you watched and loved the Netflix series, then get acquainted with the 1959 gothic horror novel that started it all. When four people, including an occult scholar and a poltergeist specialist, travel to the haunted Hill House, they begin to experience bizarre paranormal activities. The author Shirley Jackson reportedly studied traditional ghost stories to accurately deliver this haunting story.
Tender Is the Flesh by Agustina Bazterrica
What's more horrific than cannibalism? When it's first reported that a virus has made all animal meat poisonous, the government begins transitioning to human flesh, making cannibalism completely legal. Marcos takes a job working in the meat processing plant in order to support his dying father and must now deal with the insanity and horror of his changing world.
Norman Bates and horror go hand in hand. The novel follows him while he works as a caretaker of an isolated motel and deals with the tumultuous and strange relationship that he has with his mother.
Japanese Ghost Stories by Lafcadio Hearn
If you're a fan of short stories, then this is for you. In Japanese Ghost Stories, princesses turn into frogs, dead brides go on a haunting spree, and paintings come to life. There's also your fair share of goblins and faceless monsters. The author was inspired by traditional Japanese folklore and even included some anecdotes about his own eerie experiences of growing up in Ireland.
Fledgling by Octavia E. Butler
What happens when a 10-year-old girl turns out to be a 53-year-old genetically modified vampire? Octavia Butler's Fledgling is the answer. In this blend of science fiction and horror, Butler explores the symbiotic relationship between humans and vampires, and what happens when the two become closer than ever.
The Other by Thomas Tryon
While The Other was also part of the "horror boom" of the mid-1900s, it has since flown under the radar because its film adaptation wasn't nearly as successful as The Exorcist and Rosemary's Baby. But that doesn't mean the story isn't any less horrific. Two identical 13-year-old twins living on a rural New England farm are the subject of Tryon's debut psychological horror novel. The twist? One of them is a sociopath.
In Coraline's house, there are 14 doors and only 13 of them open and close. One day when she's able to unlock the final door, she finds a passage to another home that looks just like hers, with a mother and father who don't want to let her go. Other children are there, too, and she becomes tasked with freeing all of the lost souls, and herself.
My Soul to Keep by Tananarive Due
Jessica has found the perfect man in David. He's attentive, caring, and everything she's ever wanted in a husband. But one day, he confesses to her that 400 years ago, he traded his humanity so that he would achieve immortality. To keep Jessica and their daughter with him forever, he invokes a forbidden ritual so that they may never leave his side.
Interview with the Vampire by Anne Rice
In a long and detailed interview with a reporter, a vampire named Louis lays out his life story, which is filled with killings and blood sucking. For an added scare, check out the film adaptation starring Tom Cruise and Brad Pitt.
You're probably familiar with this story, and its many spoofs. A mysterious videotape warns four teenagers that they'll die in one week unless they complete an unspecified task. Shortly after, all four of them die from heart failure. When a journalist learns about the tape, he watches the video and attempts to solve the mystery before it's too late.
The Saturday Night Ghost Club by Craig Davidson
This coming-of-age novel is the lovechild of Stand by Me and Stranger Things. Jake's uncle Calvin is a lover of all things occult and strange. When a pair of siblings moves into town, Calvin decides to welcome them all into the "Saturday Night Ghost Club." But what begins as a fun summer activity quickly turns into close encounters with the supernatural.
Collected Works by Edgar Allan Poe
For those unfamiliar with the work of Edgar Allan Poe, spooky season is a great time to get acquainted. The 19th-century poet infused a level of mystery and eeriness in all of his work. If you had to read "The Raven" in school, then you know exactly what the vibes are.
Mexican Gothic by Silvia Moreno-Garcia
When Noemí travels to the Mexican countryside to visit her newly-married cousin, the seemingly haunted house that she's staying in begins to infiltrate her dreams. Dark family secrets, violence, and horror are what you'll find in this modern classic.
Zone One by Colson Whitehead
While Colson Whitehead is mostly known for his Pulitzer Prize-winning novel The Underground Railroad, he's also dabbled in horror. After a plague takes over lower Manhattan, a man named Mark and two other civilians are tasked with clearing Chinatown of any remaining zombies. What could go wrong?
The Turn of the Screw by Henry James
This 1898 horror novella follows a governess who cares for two children at a remote and haunted estate. She begins to see unknown figures around the grounds and they're later revealed to be old inhabitants of the estate. Chaos, and even mysterious deaths, ensue.
The Strange Case of Dr. Jekyll and Mr. Hyde by Robert Louis Stevenson
In this classic gothic novella, legal practitioner Gabriel Utterson investigates a series of unusual incidents between his old friend Dr. Jekyll and a killer criminal Mr. Hyde. However, he soon realizes that Jekyll and Hyde are one and the same.
This content is created and maintained by a third party, and imported onto this page to help users provide their email addresses. You may be able to find more information about this and similar content at piano.io
Advertisement – Continue Reading Below