Style Points is a weekly column about how fashion intersects with the wider world.
"The primacy of clothes." That was Miuccia Prada and Raf Simons' stated starting point for their fall 2023 menswear collection back in January. And it's a sentiment that designers have been going back to recently, tired of chasing the concentric trend cycles of TikTok trend forecasters, the tyranny of "-cores," and the transient dopamine hit of viral moments. With the exit of maximalist maestro Alessandro Michele, an overall mood of minimalism in fashion, and a renewed interest in investing in classics, there was a level of restraint running through this season. These were not short-term infatuations. They were clothes to fall in love with.
And there was a sense of time longer than a TikTok nanosecond—an affinity for the meandering run times of classic cinema, the attention span of a former world, the patience it takes for a designer to build a legacy, and the time-consuming craft that's required to create pieces that can be worn forever.
Miuccia Prada famously helped pioneer the idea of "ugly chic," but this season was a meditation on beauty. And on uniforms, which have been a point of fascination for the duo. She and Simons referred to them as "sartorial representations of care and responsibility," a sign of steadiness in a shifting world. Uniforms, in a way, are about time: the investment of skills and the persistence of labor. Utilitarian pieces like military jackets and duffel coats were juxtaposed with inordinately pretty and social event-worthy items (bridal gown-inspired 3D embellished floral skirts, candy-colored pumps.) It felt like their way of closing the gap between two diametrically opposed slices of fashion: quotidian fare and occasion dressing. Why is beauty restricted to certain socially-sanctioned moments? Why can't we treat the everyday as an event, too?
At Dior, Maria Grazia Chiuri looked to the 1950s, which don't get as much of an airing in a fashion industry currently besotted with the '90s and aughts. Drawing from the life and style of Catherine Dior (the house founder's sister, a flower farmer and French Resistance fighter) and the singers Edith Piaf and Juliette Gréco, she crafted beatnik-existentialist uniforms that nodded at the undersung radicalism of the period. For Chiuri, clothing can absolutely be as intellectual as a Left Bank café society habitué. She called it "the tactile embodiment of a form of thinking, a means of approaching, of tuning into the world."
Bottega Veneta's Matthieu Blazy followed up last season's "Kate Moss in (luxe leather masquerading as denim) jeans and a flannel shirt" moment with sharp trenches, shirting and suits. While it had its maximalist moments, the collection demonstrated his power when it comes to low-key luxury. In his hands, even a simple white tank and jeans combo looked newly irresistible.
Two young designers making much-anticipated sophomore efforts—Bally's Rhuigi Villaseñor and Ferragamo's Maximilian Davis—showed they could play in the big leagues with their fall collections. Called "The Persistence of Time," Villaseñor's collection was inspired by Hollywood, and it felt imbued with cinema's heritage and history, whether it was the après-skiwear of Old Hollywood icons or the vestiges of red carpets past. Clearly, Villaseñor was one of many designers rethinking their own personal tempo. To quote from his show notes, "his approach eschews the fleeting moment for the full movie."
Davis also looked to the silver screen, and the past. He went back to the rich text that is the house's cinematic heritage, particularly in the 1950s, the era that saw Salvatore Ferragamo outfitting Marilyn Monroe and Sophia Loren. "I was interested in using their glamour and beauty, and their way of dressing, as a reference, but looking at how we could make it feel modern," the designer said in his show notes. He wanted to focus on "the more romantic side" of the decade, with elements like off-the-shoulder necklines and full skirts. But Davis' midcentury starlet had an edge to her, too, one that came out in candy-wrapper surfaces and pops of fire hydrant red and highlighter yellow.
And at The Row, always a bastion of Carolyn Bessette-style reserve, Mary-Kate and Ashley Olsen turned out grand gestures, like exaggeratedly oversized, knotted capes, or dresses with dramatic opera gloves. Despite their heightened quality, the clothes felt like they existed in real life, not on a runway—particularly in the case of a bright red coat clutched to the chest along with gloves and a minibag, the way the designers themselves might in one of their own endlessly-referenced street style photos. Another bright spot: seeing Maggie Rizer pop up on the runway. Along with welcome returns elsewhere this season from Amber Valletta and Jessica Stam, it was a reminder that fashion is at its best when it's timeless.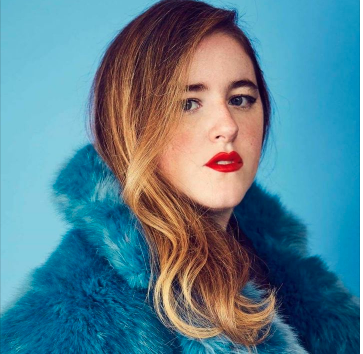 ELLE Fashion Features Director
Véronique Hyland is ELLE's Fashion Features Director and the author of the book Dress Code,<https://bookshop.org/p/books/dress-code-unlocking-fashion-from-the-new-look-to-millennial-pink-veronique-hyland/17540227?ean=9780063050839> which was selected as one of The New Yorker's Best Books of the Year. Her writing has previously appeared in The New York Times Magazine, The New Yorker, W, New York magazine, Harper's Bazaar, and Condé Nast Traveler.